History of Our Kennel
The first time I began to be interested in white shepherds was in 1994, after I saw, like most future owners, the picture of this beautiful animal. At that time I already had experience with breeding of a different breed. I was considering extending the kennel and thinking about a suitable breed. At the moment I saw (at that time still American-Canadian) the white shepherd, the decision was made. In our case it all started with a picture. Then followed a few phone calls with the 'white' breeders, who were at that time very very few. I reserved a puppy. Our first female was Donna (Gloria Donna Sambadi), born in January 1995. Soon I found out that it's not only the appearance which is so fascinating for the white shepherds' fans, but most of all, their wonderful character. And so we couldn't be satisfied with only one pet. In one year, our canine-human pack was joined by Simara (Iwanga Simargl Sambadi). In 1996, we also registered our kennel, Donnevara. We trained both females, went to dog shows with them and successfully passed the breeding tests. In spring 1997, our first white shepherd puppies were born.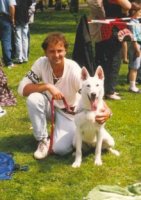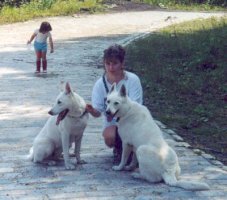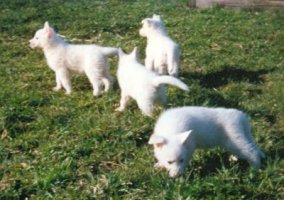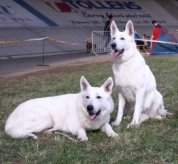 As the years went by, our family has grown by two girls and our pack by two more dogs. In 2001, we got a new female, Cathy (Dara Cathy Elbigi) and one year later a male, Asty (Asterix Star z Ranče Montara), who, as an unrelated individual, was supposed to be a great benefit for the Czech breeding program. Cathy got the title Czech junior champion in a very short time. In autumn 2002, I began training with Asty and because of the birth of my daughter, Monika, we postponed the beginning of his show career for 2004. Both Cathy and Asty fulfilled the difficult criteria of breeding tests and in spring 2004, they were both used in breeding for the first time.

Donna, with her high age but admirable vitality, has become a member of the veteran group. Just one year younger Simara is still being showed reaching the highest rankings and titles. In December 2004, she gave birth to her last litter of puppies. In spring 2005 she, too, has become a veteran. Asty has become a reliable and successful sire.

Cathy gained many other dog show awards and had two litters of puppies with beautiful appearance and great character. The day when her puppies from the "K" litter were 6 weeks old, a great tragedy happened to our kennel and family – we lost our beloved Cathy due to other person's fault. She died of poisoning. Our good, beautiful and successful female Cathy, our and our children's faithful friend, Cathy, who wasn't yet four-years-old and had all the life ahead of her. We'll never find out whether it was "somebody's" indolence or evil intention, which was paid for by such an innocent and nice animal like Cathy. Our sadness and pain from this loss are great. It took me the whole month before I could write these lines. It's impossible to forget and impossible to understand. We remember Cathy with great love and grief.


There were 8 puppies left after Cathy, which were fortunately already self-reliant and 6 of them had been booked. We decided to keep a female from this litter. This wonderful creature, which brings us a lot of joy and helps us moderate our grief is Kelly, (Kelly Nice Donnevara). At (her first) Club show in 2005, Kelly won the Best Young Dog award and Simara (her third) Best Veteran award. Donnevara kennel won in the Best group award thanks to the most visible type unity, which our litters show. Asty became the National winner in the 2005 season.

In the beginning of 2006 Simara was the first white shepherd to reach the Czech veteran champion prize. In February, both our family and pack moved into a new home. We reconstructed a house and our dogs, too, had wonderful new conditions and a lot of space. Kelly, which had been promising since she was a puppy, attended a few dog shows with excellent results. The top of the dog show season – the Club Show – brought to young, 18-month-old Kelly the Club winner, Best of Breed and Best of Show awards. And since she fulfilled all the criteria she became eligible for breeding in September 2006. In January 2007, Kelly has become a mother for the first time.


Breeding Results
We have had 73 puppies in our kennel so far, who bring pleasure to their owners in the Czech Republic, Slovakia, Germany, Latvia, Lithuania, Finland, Greece and Argentina Asty's offspring live in Czech Republic, Lithuania, Estonia, Japan and Israel. We are the only Czech kennel to have bred European winners. We produce top Czech white shepherds and not only concerning dog shows. Most of our puppies have work training and they take work trials. However, there are also many who do not attend dog shows and their owners don't have breeding ambitions. They are good friends, companions, guardians and equal members of their families.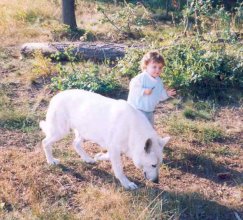 Why Choose White Shepherd?
Every day we can make sure how right was our choice of breed as we see the harmony of our children and dogs. They are our children's friends as well as their guardians. For me is breeding not only a wonderful hobby, but also an inseparable part of my life. It is quite common that the person who lives with one white shepherd soon gets another one, or even more. White shepherds, if brought up well, can make their owners company literally everywhere. They are loyal and dedicated, clever, easy-to-teach and obedient. They are easygoing dogs who'll bring joy to your life.